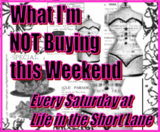 Margo
started the "What I'm NOT Buying this Weekend" meme with the caveat that if you
do
express your God-given right to shop with actual money, to still post your purchases (with gusto!) so that others can live vicariously through you. Well, it was really, really hard but I took one for the team this week. I did it for
you
, people.
You're welcome.
Firstly, my family is going to the beach next month so I went bathing suit shopping and just lookit the cutie-pie bikini I found! It's distinctly Gidget-y on and quite fetching in person.
Yea! Glad that's over and done with.


Top: $48.00
Bottoms: $52.00
Not on sale... boo...
Then, I got a major itch to go thrift store shopping this week so I got some cream for that and
then
I went to my favorite place for retro threads,
Bohemian Spirit Vintage
. It's where I bought the amazing 1930's dress I'm wearing in my profile photo. I was looking for a black cocktail dress for a wedding I'm going to be in and not only did I find a great one but several other diamonds in the rough, too! I will post pictures of the black dress when it's finished being altered. Until then, here are the other gems I found!
Red Rose Dress
This dress is A. Mazing.
I'm going to shorten the sleeves, though, and give them a cuff.
And would you just look at the ridiculously gorgeous fan detailing on the placket!
$30.00
40% off



Blue Jersey Shirtwaist Dress
Think i might cuff the sleeves on this one, too.

$12.00
40% off




Silk Periwinkle Dress

It doesn't look like much yet because it's way too big and I'm going to have it tailored all 'round. Indeed, it's the only dress I was able to fit on my large dress form mannequin.
$16.0075% off
Graphic Stripe Dress
Yeah, yeah, I know how hideous this dress is right now...
But look how chic and modern it will look once I rip the sleeves off!
I know... I'm a genius.
$10.00
50% off
FREAKIN' ADORABLE PURSE!
Look how fantastic the embroidery is.
$1825% off

Sigh... it was a good week.